Justyna Adamczyk
— Biography

PL
Justyna Adamczyk (ur. 1981 w Opocznie) ukończyła Akademię Sztuk Pięknych im. E. Gepperta we Wrocławiu na kierunku malarstwo w 2007 roku. W swojej twórczości artystka skupia się na fetyszyzacji i estetyzowaniu traumy, wykorzystując różne techniki twórcze, zwłaszcza malarstwo i rzeźba. Dwukrotnie stypendystka Ministra Kultury i Dziedzictwa Narodowego (w 2005 i 2006). Jej prace znajdują się w wielu kolekcjach prywatnych i publicznych, m.in. OP ENHEIM, Muzeum J. Malczewskiego w Radomiu, Muzeum Narodowe w Gdańsku. Laureatka licznych nagród, swoje prace prezentowała na 3. Międzynarodowej Wystawie Sztuki Nowych Mediów Cica Museum, Soul (Korea Południowa), 4 Heads, Broome Street, Soho, Nowy Jork (USA), E|C Gallery, Chicago, USA , Muzeum Narodowe w Gdańsku, Fundacja Galerii Foksal w Warszawie czy Galeria Wozownia w Toruniu. Mieszka i pracuje w Warszawie.
Pobierz portfolio w PDF︎︎︎
EN

Justyna Adamczyk (born in 1981 in Opoczno) graduated from the E. Geppert Academy of Fine Arts in Wrocław, majoring in painting in 2007. In her work, the artist focuses on the fetishization and aestheticization of trauma, using various creative techniques, especially painting and sculpture. She has received grants from the Minister of Culture and National Heritage twice (in 2005 and 2006). Her works are in many private and public collections, including OP ENHEIM, J. Malczewski Museum in Radom, National Museum in Gdansk. Winner of numerous awards, she has presented her works in The 3rd International Exhibition on New Media Art Cica Museum, Soul (South Korea), 4 Heads, Broome Street, Soho, New York (USA), E|C Gallery, Chicago, USA, National Museum in Gdansk, Foksal Gallery Foundation, Warsaw or Wozownia Gallery, Torun. She lives and works in Warsaw.

Download portfolio in PDF︎︎︎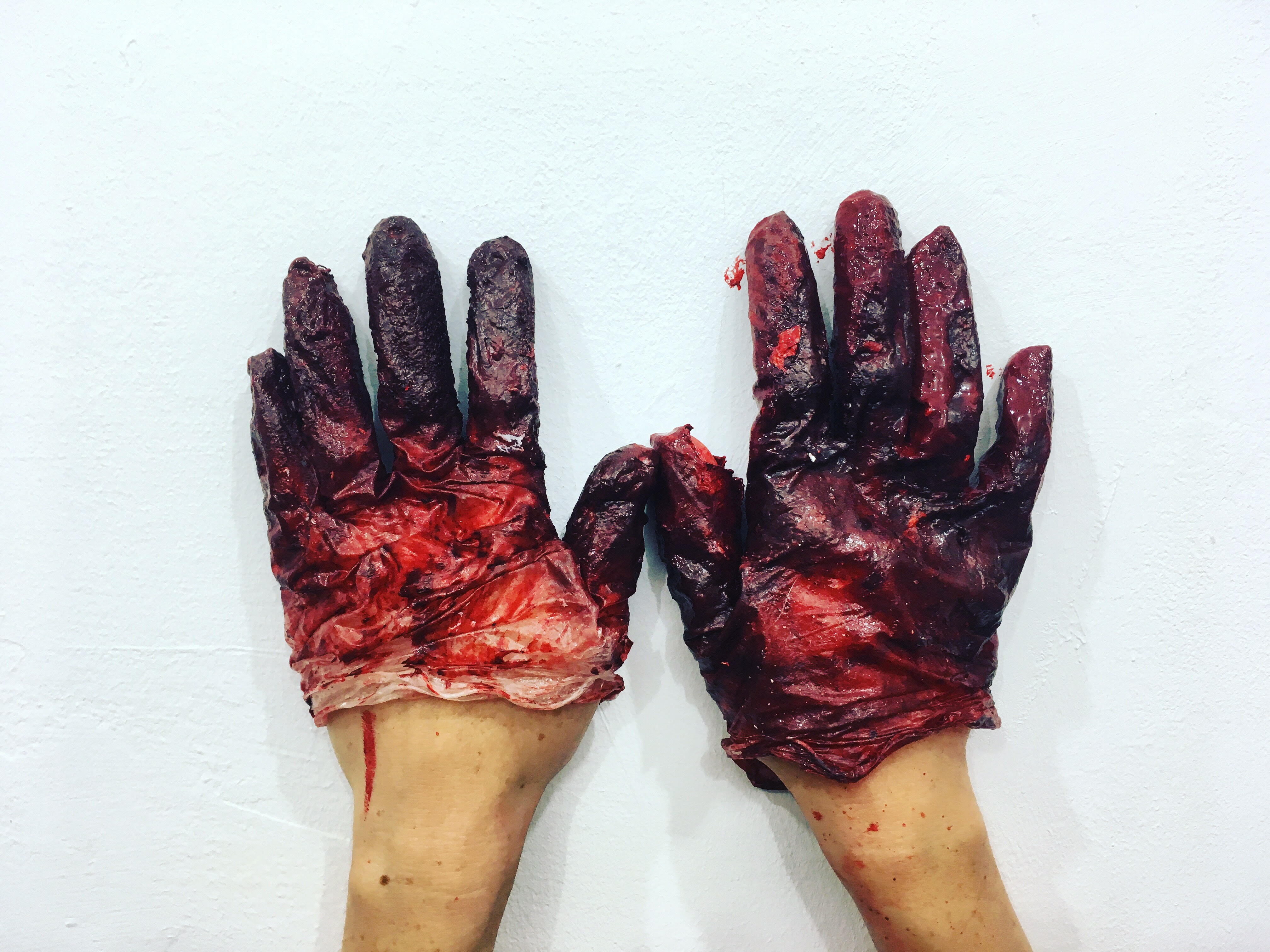 Artist Statement
PL
Poprzez instalacje, rysunki, malarstwo potrafię najlepiej oddać emocje. Poszukuję prostej, lecz niebanalnej, bogatej w symbolikę formy. Moje prace mają często charakter ikonograficzny. Każdy obraz jest powiązany z osobistą historią. Fascynują mnie relacje z ludźmi.Ilustruję własne subiektywne spojrzenie. Tworzenie traktuję jak notatnik. W projektach umieszczam rzeczy, o których chciałabym zapomnieć albo chcę zapamiętać.


EN
I can best express my emotions through instalations, drawing, paintings. I am looking for a simple but original, symbolic form. My works are often iconographic. Each image is associated with a personal story. I am fascinated by relationships with people. I illustrate my own subjective view. I treat creation like a notebook. On the projects I put things that I would like to forget or want to remember.
2020 – Don't forget to remember me, Bacalante Gallery, Warszawa, PL
2020 – Artistic residency in Op Enheim, Wrocław, PL
2017 – Healing story, Art Colony – Down Town, Gdańsk, PL
2016 – Anywhere, City Gallery, Legnica, PL
2015 – Keep your mouth closed. Painter's notebook, Cultural Center, Częstochowa, PL
2014 – Form of Fear, E|C Gallery, Chicago, USA
2014 – Tego nie było (It wasn't), Galeria Fibak, Warszawa, PL
2013 – Dark Corner, E|C Gallery, Chicago, USA
2012 – Dirty hands, Wozownia Gallery, Toruń
2010 – I live quietly and at not limit, Heppen Transfer Gallery, Warszawa PL
2010 – Justyna Adamczyk: New Paintings, E|C Gallery, Chicago USA


2022 – Tkanka, Hos Gallery, Warszawa (PL)
2022 – Pull the triger, Miejska Galeria Sztuki w Gdańsku, Gdańsk (PL)
2020 – Our own room, Feminism, art and culture, Digital projekct, Social media
2019 – New look, Collection of the National Museum in Gdansk, National Museum, Gdansk (PL)
2019 – Disordered States, FaB, Batch, (UK)
2019 – The Palace of Art. Young Polish painting, Collection of the National Museum in Gdansk, National Museum, Gdansk (PL)
2018 – All Art+ Van der Plas Gallery 156 Orchard St. New York (USA)
2018 – Free Art Fair Taipei, Taiwan 信義區光復南路133號 (TWN)
2017 – GIAF 2017, 4 Heads, Governors Island Art Fair, New York (USA)
2017 – The Digital Body, The 3rd International Exhibition on New Media Art Cica Museum, Soul (South Korea)
2017 – Portal 2017 , 4 Heads, Broome Street, Soho , New York (USA)
2017 – PyeongChang Biennale 2017, The Five Moons: Return of the Nameless and Unknown, Gangneung (South Korea)
2016 – KREW - WERK, Foksal Gallery Foundation, Warszawa, PL
2016 – Light and Space, Steps Gallery, PolArt Festival, Melbourne AU
2015 – Liquitex Painting Prize | Griffin Gallery Open | Londyn, UK
2015 – PALINDROM | State Art Gallery |Sopot, PL
2014 – … Po deszczu (After the rain), Grey Gallery, Cieszyn, PL



2018 – Free Art Fair Taipei, Taiwan 信義區光復南路133號 (TWN)
2017 – GIAF 2017, 4 Heads, Governors Island Art Fair, New York (USA)
2017 – Portal 2017, 4 Heads, Broome Street, Soho, New York (USA)
2015 – ART INN, Labirynt Gallery, Lublin PL
2011 – Vienna Art Fair, Wien AT
2010 – The best chestnuts are at The Place Pigalle, Heppen Transfer Gallery, Warszawa PL


2021 - "13" painting have been purchased for the collection of the National Museum im. J. Malczewskiego in Radom
2021 - Art Jobs, " Artist Of The Month" January 2021, Special Award
2020 - Artistic residency in Op Enheim, Wrocław, PL
2020 - qualification to XIIIth Florence Biennale 2021, Fortezza da Basso,Florence, Italy, IT
2019- "Op fame, Konferencja My, Wy, Oni" https://openheim.org/pl/projekty/op-fame/
2019 - Program OP_VISITORS to cykl wizyt studyjnych, który poświęcony jest współpracy polsko-niemieckie, https://openheim.org/pl/projekty/op-visitors/
2018 - Two of paintings have been purchased for the collection of the National Museum in Gdansk
2017 - nomination to BLOOOM Award by WARSTEINER 2017, Cologne, DE
2017 - qualification to GIAF 2017, 4 Heads, Governors Island Art Fair, New York (USA)
2017 - qualification to Portal 2017, 4 Heads, Soho, New York, USA
2017 – nomination to PyeongChang Biennale 2017, Gangneung, South Korea
2017 – nomination to Light and Space, Steps Gallery, PolArt Festival, Melbourne AU
2016 - qualification to Blue Berlin Open Call, BERLIN BLUE art space, Berlin, DE
2015 – qualification to Liquitex Painting Prizepost, exhibition in Griffin Gallery, London, UK
2015 – qualification to publishing project Wczasy MAG
2014 – qualification to The Rising Stars (Winsdor and Newton) project
2010 – nomination to 9th Geppert's Competition (Painting with no "frames")